Weekend Recap: Whirlwind Trip to Utah
So Jenn and I headed to Utah for some meetings over Wednesday through Saturday. We met with a bunch of people, including Echo Park (join up on their Facebook for cool deals and lots of fun). Madison, Jody, and Nathaniel are awesome, and their new offices rock! They are putting out some amazing new lines in both paper AND digital (no need to ever worry about running out of that last precious sheet of paper, or that letter E from the alpha sticker sheet - they got ya covered!)
In fact, ch-ch-check out their newest Halloween paper pack, with 30 papers of goodness. The solids, stars, dots, and grids will even be amazing for other projects after the big H'ween is done. LOVE this paper pack.
We met with some folks at BYU, and hit up the BYU bookstore to grab some chocolate covered cinnamon bears. I'm not a fan myself, but we know people who are, and they aren't available outside of Utah.
We also met up with the owners of Northridge Media, who are simply amazing. How do they put out 5 monthly publications? (ahem, plus the awesomesauce that is Stories in Hand…coming November 5 and available for preorder right here) It's magic. Pure and simple. We talked about Stories in Hand, mostly, and reminisced about the good times (ha!) in developing it. Planned for hopeful future books, and it was a great meeting.
We stopped by at least 5 Maveriks, for old time's sake (there were 2 of them in my hometown growing up), and also because they have a selection of at least 30 flavors of soda. Diet Mt. Dew on tap, baby! I didn't know that their "large" size was actualy a 52 oz drink until I went back in later on Thursday to get a refill and the guy was like, "Okay, 52 ounce refill, 89 cents" WHAA? Well, it had a lot of ice in it. I'm sure it did. Also, I'm a Diet Mt. Dew junkie, this much I knew already.
We headed from there up to get a mani/pedi (thanks, Ana!) and to talk to my good friend, the amazing Ana Cabrera. She made us roast chicken and two kinds of rice. We talked about JS.com, social media, country music, and diet soda.
On Friday we hit up Deseret Book, where we ran in to the artist of some incredible paintings, who was their for a signing. I bought two of his prints. His name is J. Kirk Richards.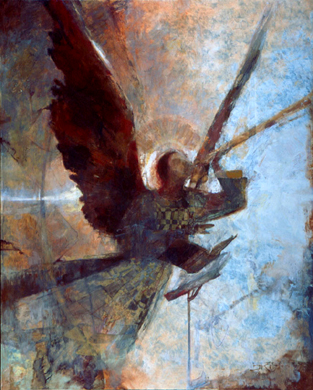 Print 1, "Angel"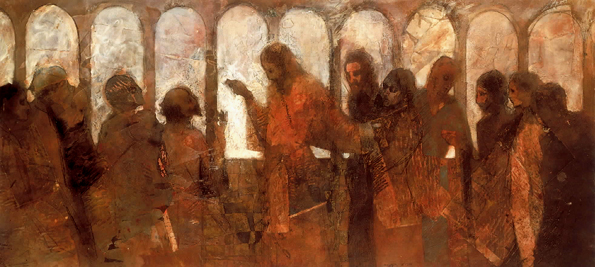 Print 2, "The Last Supper"At noon we met up with the incredible, amazing Heidi Swapp, and ate lunch at Zupas. Why oh why don't they have one of these in North Carolina? I ate the other half of Heidi's turkey panini with spinach/artichoke dip, and loved on my tortilla soup - Jenn had the lobster curry soup, and Heidi had the African Chicken and Peanut. Sound delish? It WAS.
We spent the rest of the afternoon talking with Heidi, planning out goodness both in the long and the short term. The most immediate, and most exciting for me is this: Heidi Swapp and I are going to team-teach a class in February! I am so geeked. She is incredible, and has been one of my idols for a long time. So I felt pretty good sitting there talking like it was no big deal to this person I admire so much. I think I pretty much kept it together. :)
She's one of the most creative, kind, generous, thoughtful people I've ever met.
So, what's the class to be, you might ask?
It's going to be a mixture of Photoshop (no surprise there, right?) and crafting techniques mixed in amazing and wonderful ways. The beauty of Photoshop and the genius of Heidi Swapp. Oh man, I could squeal! :D The official announcement goes out on the 25th of October, but since you are here reading I thought I'd give a little sneakie. :)
And if you haven't checked out her weekly FREE webshow, it's on every Wednesday night at 10 p.m. Eastern (8 p.m. Mountain time) right here: http://www.ustream.tv/channel/heidi-swapp-live. Tomorrow's episode is all about the Yudu. Can't wait!
So I'll be giving away some free entries to the HS/JS collaboration class. Keep the eyes right here, tuned in. Can't wait.
Overall, though, I'm glad to be home. We were meeting or eating or talking or driving or planning or listing or dreaming or scheming for 15 hours a day for 3 days, and it was SO NICE to just come home and BE on Sunday. Just be mama, and hang with the fam.
Ok! Back to work on the Family History Album class! (Still time to join if you want to!) Here's a sneak of one of the spreads we'll be making:
Click for LargerHave a great day!
-JS